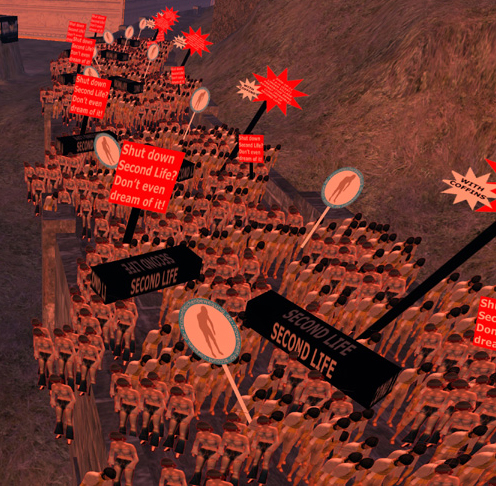 demonstrating account corpses
October 11, 3 p.m., Village – Kirkby (177,209,45)
Unique preventive demo against the (possible) closure of Second Life
Experience teaches: Many demonstrations happen too late! Ours doesn't. We are there before Linden Lab can even fathom shutting down Second Life. We, the residents of Second Life, will gather in front of Linden Lab headquarters to give them hell. The motto is: "Shut down Second Life? Don't even dream of it!"
Make as many posters as possible, create coffins, avatar fetuses, whatever – the more drastic, the better!
For a warm-up, those of you speaking German are invited to come to the official inauguration of the research station at 2 p.m. (CEST). Expedition leader Muji Zapedzki will introduce the station to the public and present the first reports. The opening will be transmitted live during the European Literature Days in Hainfeld Castle, Austria. Please join in large numbers!
Later we can go for a short cross-country cruise with 3D-jeeps and at 3 p.m. (CEST) we will gather at the Linden Lab headquarters.