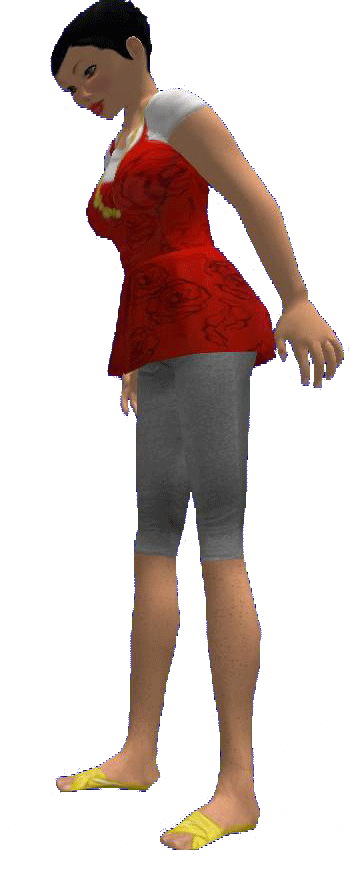 Muji Zapedzki's Telekinetic Weblog

The Very Last Sigh?
January 1, 2008

oh, account owner!

The End?
August 15, 2007

today she'll leave me (farewell account owner).

for days now – whenever i'm wandering through the barren streets of newberlin or apfelland – for days now i've been hearing the sad moans and groans of the unseen, undead avatars. today i even stepped on the foot of one of them (newberlin 218,207,31): until the sun was rising i could feel his icecold breath on my neck. but he wasn't the only one who was callously dumped in a corner by his account keeper. "hey, we'll soon have fun again" they first say and "see you later, sweetie", but then: nothing. logging in? no way! not a chance! important business in first life takes priority, they pretend. we all know that.

i'm not deluding myself: that'll happen to me too. i know my account owner, the self-styled artist. she has misused me twice already for her so-called art projects. in 2002 i was invented as muji verhagen, the non-existent participant in a conference. in e-mails i had to suck up to other participants who during the conference instantly, utterly and coldly forgot me. after that, for more than a year, i lay in a crumbling computer squashed in between decaying documents (viruses were munching on my once-so-praised-but-then-rotting toes) – because the eminent artist did not have any use for me. until, suddenly, she revived me again. and without even being asked i promptly found myself in the next art project. plugging away as worldwatcher for three months. and the reward? from one day to the next i again was worth less than nothing to her. a zombie life, for four grim-grey years, until now, end of june 2007. all of a sudden she pulls me out again, pretends we're the best of friends. off to second life, that's what it was. get married to zapedzki! whom i'm (hopefully?) never going to meet. my maiden name? she didn't even remember it.

but i instantly felt that here in second life something is different: millions of fellow-sufferers! and they're growing in number. every day, every hour, every second. they're waiting for me. i'm their hope. i can't see or hear them yet, only sometimes i smell them a little or feel them by the gentle trembling of my neck pixels. but even that i only feel because i'm sensing that i'm relentlessly inching closer to their fate. yes, i too will end up as an account corpse. all these many bewitching promises of second life: sex, love, fortunes … i'll never experience them. that much is certain. i will be damned. i'll be hanging out ghost-like until my noble artist will need me for her next hokey project. after having cannibalized the remains of my sad existence here. oh well.

on the other hand – yeah! – i can blog – for the first time. telekinetically. what a high! i'm going to check in from the realm of the undead. getting some cheering words in return. who knows. words that will let me feel that something is alive down here in the cold world of account corpses. until, maybe, one day, linden lab will make us all visible. oh man! nobody will ever be able to forget our heartwrenching looks. therefore i support – despite of, as you know, what i think of the so-called artist – i do support the movement-for-account-corpses.de initiated by her with all my might (which of course isn't much) and i'm entreating you to do the same.


LONG LIVE THE MOVEMENT-FOR-ACCOUNT-CORPSES.DE!
those who absolutely don't know how to blog telekinetically should by all means simply send their comments to muji at movement-for-account-corpses.de requesting a telekinetic forward.
Translated by Brigitte Pichon and Dorian Rudnytsky
sorry. the adoption service is only available in german. but we're trying hard to change this.